What is a trading course?
Trading courses offer structured training and education about trading the financial markets, including Forex, Shares, Indices, Commodities and Futures. There are often different grades of trading course with courses to suit beginners, intermediate and experienced traders either served online or in a classroom.
Trading courses typically have one of two goals. To either teach you the information and skills to develop your own trading strategy or to teach you how to use an already proven trading strategy.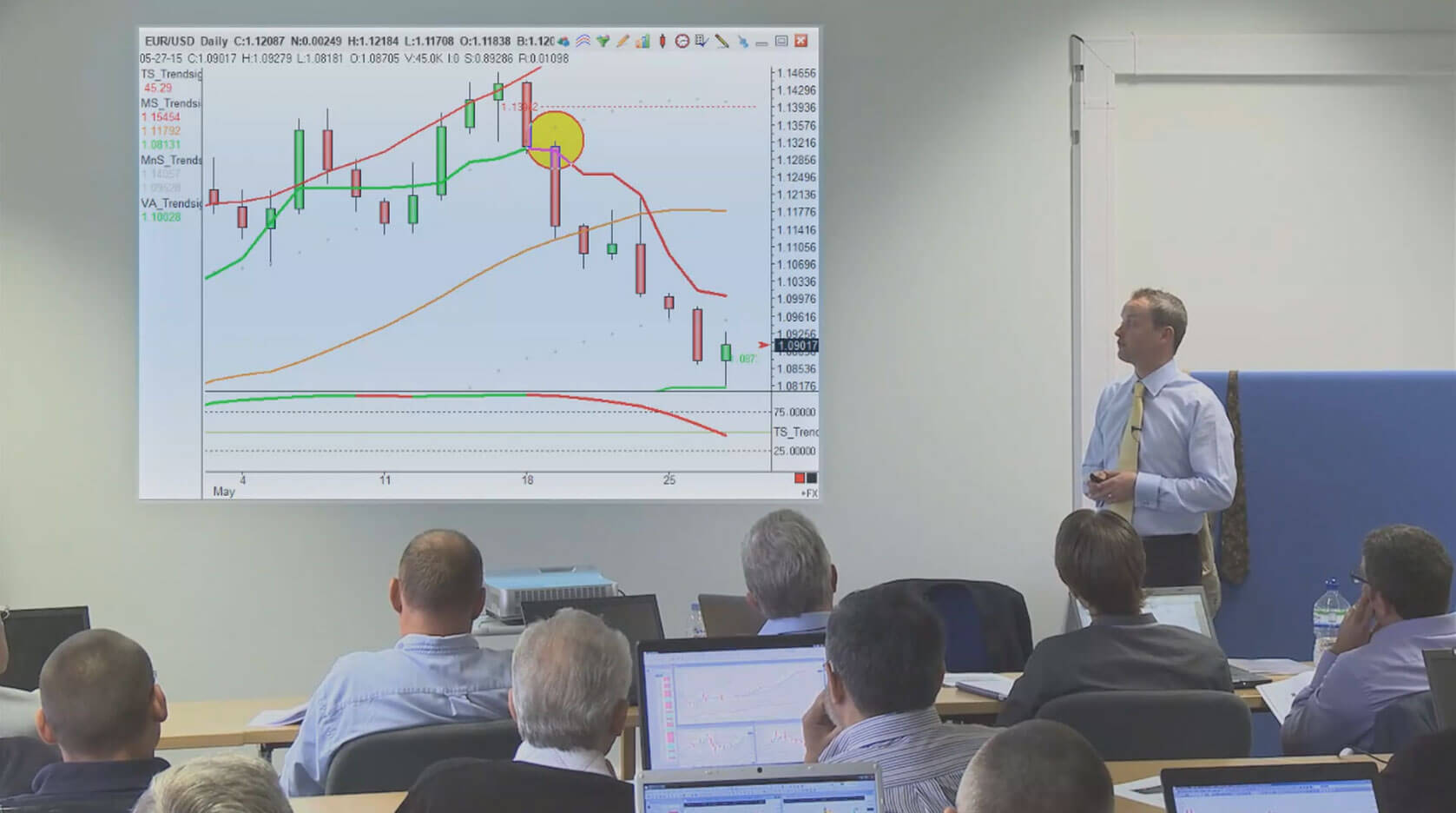 Most people start off by wanting to learn all about trading, developing their own strategies to help them to profit from the forex markets. However, people generally don't have the skills and knowledge to be able to do this effectively. As a result, many "self-taught" traders struggle to get the results they are looking for. In fact, learning from a professional is nothing more than common sense. Paying for training and education happens in every other walk of life (school, university, vocational training & sport) and yet with trading, people are putting thousands of pounds at risk without a clear plan for success. It is often after initial failure that people realise the need to seek professional tuition.
Given that most people are trading for a second income, it seems counter-intuitive to spend hours developing their own strategy that can compete with the trading mind of hedge funds and investment banks. Surely a better approach is to piggy-back a strategy that is already being used, is proven and has the support to help you to use it effectively. Rather like driving a car, we don't need to build a car and know how the engine works in order to get from A to B. Here at Trendsignal, we are here to teach people our already developed and working strategies, with the sole goal of making an extra income. We offer a complete trading course for people all over the world, with the key modules required to use our strategies effectively.
Our courses include modules covering markets, timeframes, strategies, trade management and psychology. Effectively, the key information a trader needs to be successful.
Why Do a Trading Course?
You might be wondering whether to take a trading course. And it's a great question. In fact, whether you're just starting to learn to trade, or you've been doing it a while, a dedicated course from an expert can be a great way to learn. Just as it's good to get golf lessons from a pro or driving lessons from an instructor.
In fact, there are lots of great reasons you might consider improving your skills with a trading course with Trendsignal. Let's look at some of the most common:
To learn the basics
Let's assume you're new to trading and starting from scratch on your own. As you might have already seen, there are pages and pages of educational material available on the internet. The sheer volume can even be a little off-putting. One of the main problems is that much of what you'll come across on the internet is of poor quality. It's more likely to confuse or mislead you than educate you!
At Trendsignal, we've been teaching people how to make money from trading since 2003 and we know what we're doing. Our simple to follow courses can help you learn the basics of the markets, how they work, and how to execute trades.
To improve your skills
OK, so our courses can help you if you're new to trading. But how about if you already have some experience in the markets? Perhaps you've had some success with your trading. But you're not confident that you get consistent results and you'd like some guidance to improve.
Well, again our courses can help you improve your skills, learn new strategies, strengthen your risk management approach and build your confidence.
Our team of coaches and support staff have decades of experience in the markets. And in our courses, they will share that experience with you as you learn the same strategies they use themselves to profit from trading.
To stay up-to-date
The financial markets and the methods and strategies for trading them are constantly evolving. So, for anyone keen to learn how to make money from trading, it's important to keep up to date with new developments. Trendsignal courses can help you stay on top of the latest developments and opportunities.
To gain confidence
There's nothing quite like the thrill, excitement and sense of achievement from having a winning trade and banking money from the markets. But there will always be losses and the fear of losses along the way. That is part of trading too. And because of the risk involved, trading can be intimidating, especially for beginners. As you build your knowledge and trading skills with our Trendsignal courses, you will gain the confidence you need to make informed decisions.
Overall, taking a trading course can be a valuable investment in your development to become a confident and successful trader.
Please see a full list of the courses available from Trendsignal below: