With 3 D1 Sniper Strategy trades in last night's scan, Trendsignal members have already seen 2 go on and hit their initial targets.
Scan results for the D1 Sniper Strategy included EURJPY, EURNZD and NZDCAD: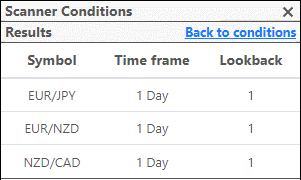 Following a recent correction, EUR/JPY gave a buy signal on 27th February as prices resumed the uptrend shown on the daily (blue line), weekly (WT) and monthly (MT) timeframes. The buy was confirmed at 144.405 and has since risen, hitting a high of 145.206 (80 pip rise) and achieving target within 12 hours.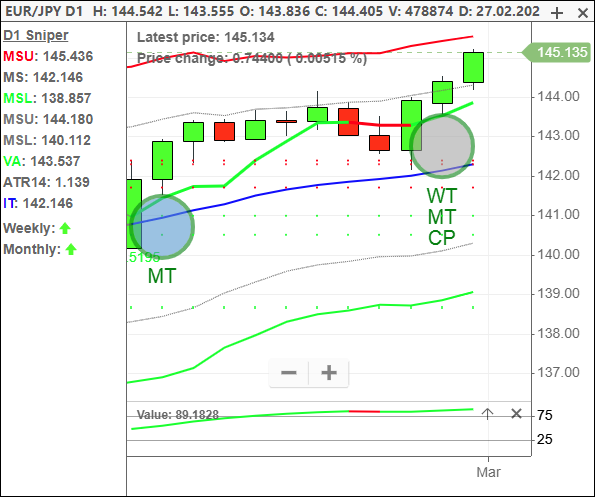 It was a similar story for EUR/NZD, which also gave a buy signal inline with the dominant uptrend. The buy was confirmed at 1.71926 and has since risen to a high of 1.72876 (95 pip rise), also hitting target within 12 hours.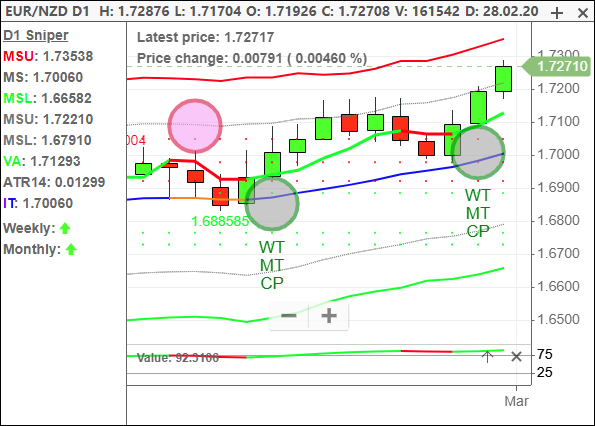 Finally, NZD/CAD rotated lower from its Short Sniper last night, as the currency pair resumed its downward bias, moving inline with descending daily and weekly trends and a descending chart pattern (CP). With an entry of 0.83669, the price has already fallen 25 pips, approximately half-way to its initial target. At this point, and with 2 trades already having hit their objective, intermediate and advanced Trendsignal Plus members will be wondering what's holding this trade back, and will be looking to take early profits. Beginner Trendsignal members will continue to run this trade according to the rules as taught on the course.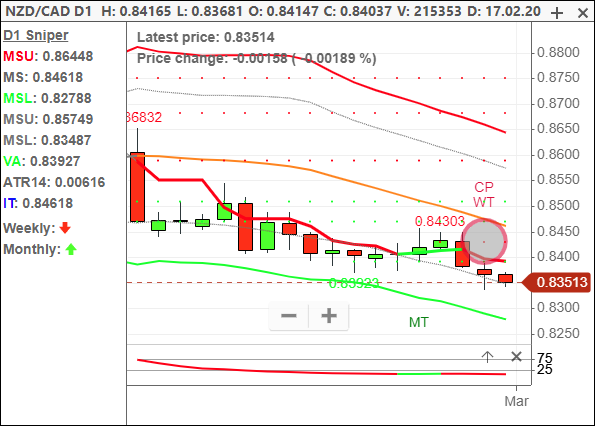 For the D1 Accelerator, there were a series of new opportunities, albeit with some duplicates. The goal on these trades is to be in and out within 48 hours, for a modest 30-50 pips target. Please see the results within just 12 hours from yesterday's trades:
CHF/JPY – Already moved +59 pips
EUR/JPY – Already moved +80 pips
EUR/NZD – Already moved +95 pips
NZD/CAD – Already moved +25 pips
NZD/CHF – Already moved +12 pips
In summary though, an excellent morning's trading.
Happy Trading
Adrian Buthee